6 Ways to Wear a Wooden Bow Tie for Kentucky Derby
Whether it's your first time wearing a wooden bow tie in public or it's your millionth debut, we all need some basic advice on how to pair this statement piece. We see guys embarrass themselves with too many accessories or the wrong pattern so it's about time this gets written out.
1. Wear Your Wooden Bow Tie with a Crisp White Button-Up
Seems simple right? Too often we see guys show up to a Kentucky Derby party and expect to not get noticed amongst the colorful dresses and big hats.
We notice. The ladies notice. And your buddies notice -- but they're not going to say anything to you.
Spend 10 minutes with an iron or a steamer and keep it classy, gentleman. Don't just throw it in the dryer and expect your wrinkle release setting to fix all of your problems. You're showing off a wooden bow tie, keep the focus on your statement piece.
And if you aren't sure if it's wrinkle-free, video call your mom and see if she approves.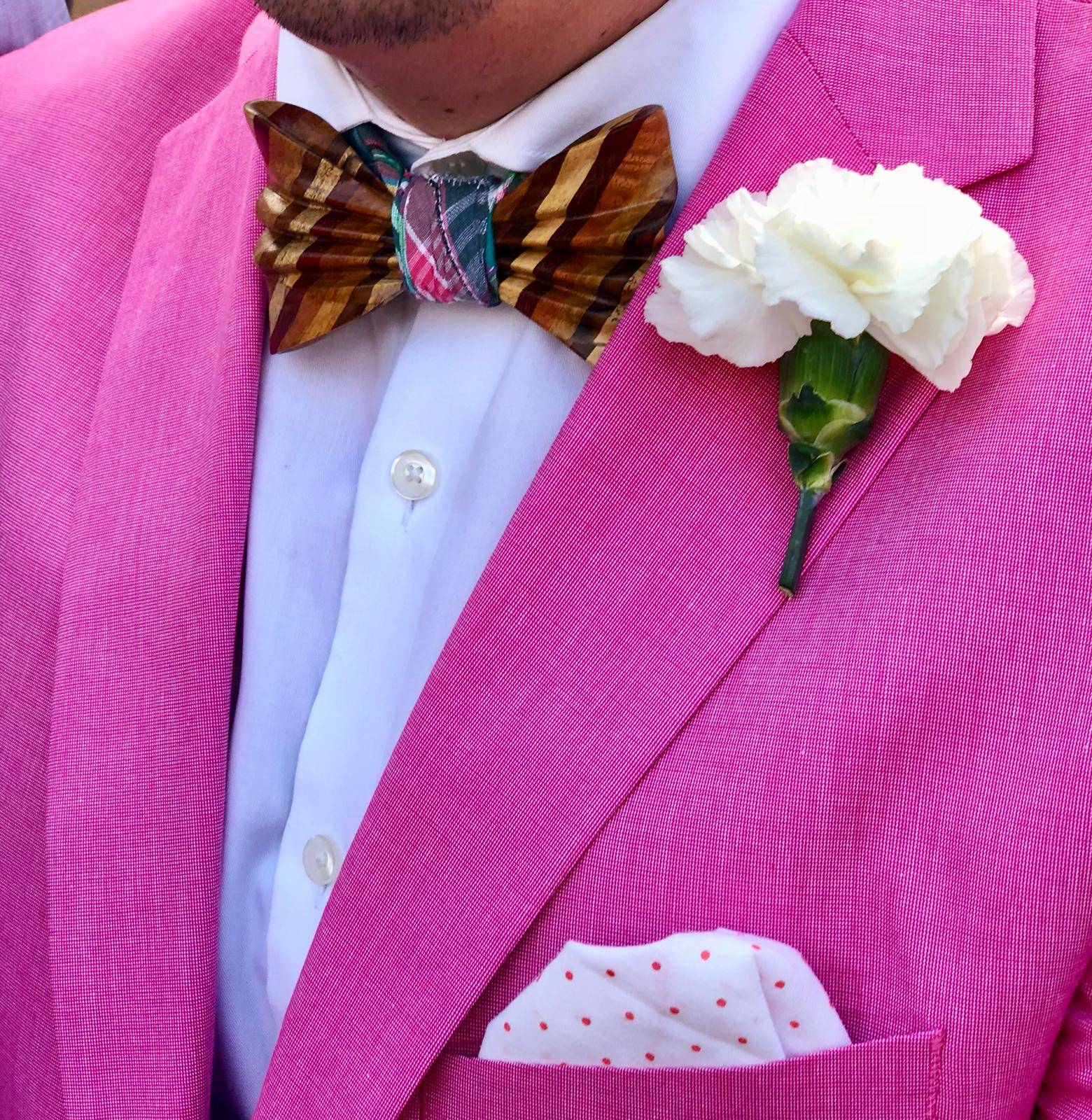 2. Wear Your Wooden Bow Tie with a Chambray Button-up.
A chambray button-up and a wooden bow tie are like burgers and fries, steak and eggs...or whatever other food combos you crave. Chambray button-ups are similar to denim, and denim goes with almost everything. You don't have to overthink this look, it compliments your wood bow tie perfectly.
If you have a darker wood species in your bow tie, wear a lighter chambray shirt. Roles reversed with lighter wood.
The key here is to find a chambray shirt that has a stiff collar too. Tougher to find, but with denim-like shirts, they are naturally more casual.
Is denim too warm for your Derby party? We get it, we're based in Florida so we suggest a short sleeve chambray with your wooden bow tie to stay comfortable.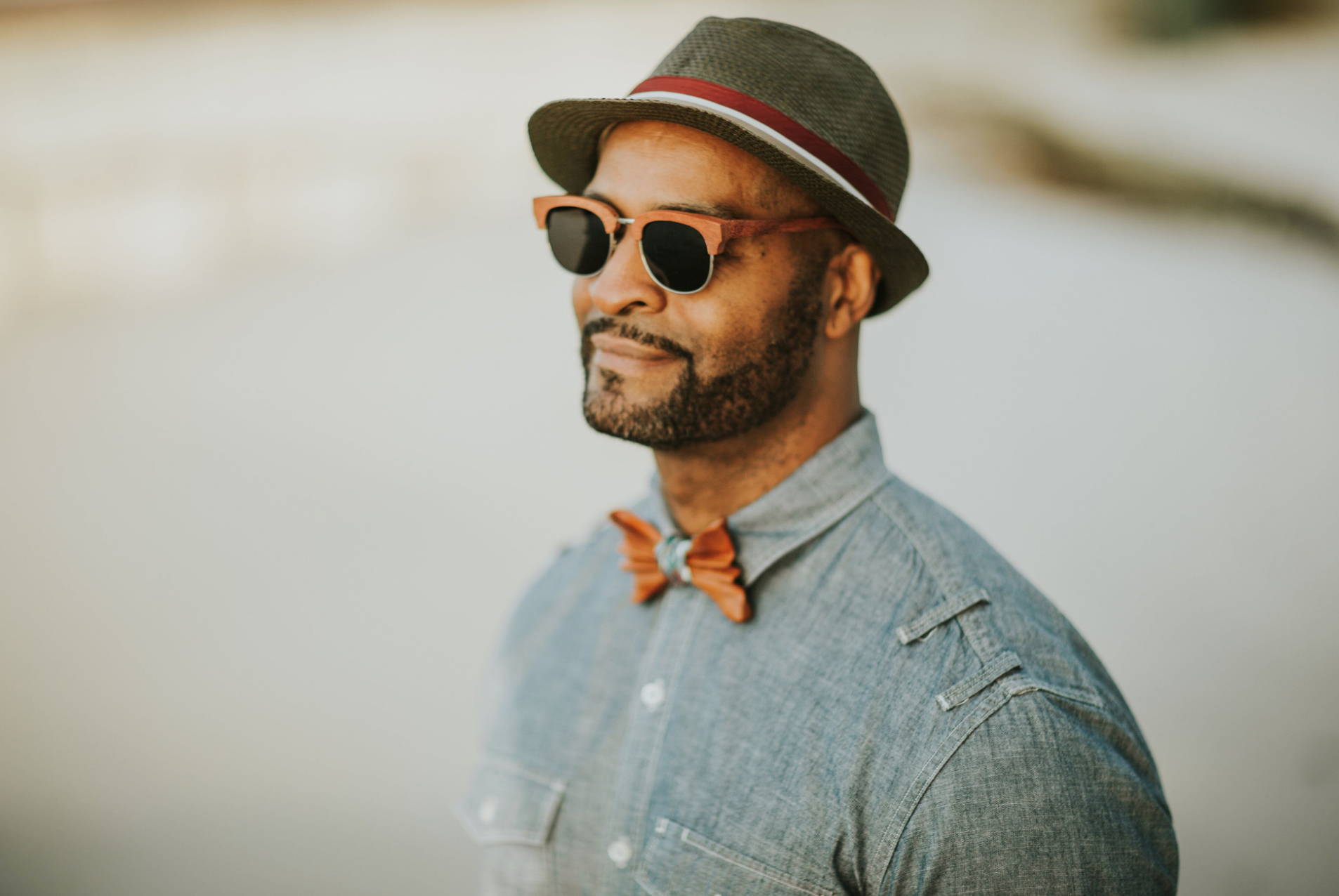 3. Wear Your Wooden Bow Tie with a Waistcoat
Waistcoat aka vest takes your average style to an elevated look. For your Derby party, pick waistcoats that are navy or sand colored. Please, please, never button up your last button on a waistcoat.
Think adding a waistcoat will be too warm? Roll up the sleeves of your button-up. It's also ok to wear shorts with a waistcoat and wooden bow tie, but make sure you wear tailored shorts like chinos or denim.
Remember, no belt when wearing a waistcoat. It breaks up your silhouette, darlin'.
Pro tip for the more adventurous: pair your waistcoat and wooden bow tie with a patterned shirt, like a navy check instead of standard white.
4. Wear Your Wooden Bow Tie with Suspenders
When you pick a wooden bow tie, it's ok to wear suspenders that have the exact pattern as the knot on your tie. Play with patterns and colors here, you're going for a playful look.
Our advice: Lean towards chambray or white button-ups if you're wearing suspenders that are heavily patterned. If you want to start with solid suspender patterns, you can't go wrong here.
Remember, no belts when you wear suspenders - ever.
If you want to look like a connoisseur, wear braces with your suspenders. The suspender snobs say the alligator clip is the equivalent to a clip-on bow tie.
Suspenders are built with a purpose in mind so it's ok if your pants sit higher than your hips. Just put your pieces on more than a day before the event and see how things fit together.
Want to go trendy with your suspenders? The thinner the trendier, but the classic size is one inch wide.
5. Don't Peacock with a Wooden Bow Tie
You can overdo it easily when you have a statement piece like a wooden bow tie.
For the love of all things Derby, don't wear a matching suit with loud highlighter patterns, a lapel pin, plus a fedora, and think, 'Well it's Derby, you're allowed to be loud'.
You're not allowed to be loud, Chad.
6. Wear Your Wooden Bow Tie with Shorts
Gentleman, find yourself a nice, well-tailored pair of chinos if you think you're ready to show off some leg.
This is a simple option for outdoor Derby events in warmer weather states. If it's an outdoor Derby event, opt for tailored chinos, but pick a waistcoat or a blazer too. It's an absolute must with shorts for this kind of event.
If you wear a blazer, please wear proper shoes. We mostly see loafers or boat shoes, but it looks like you gave up!
Our advice: Wear a classic smoking slipper. Get creative with our 3D tool here and customize your own accents or patterns. Need tips on how to build your own? Check out our Smoking Slippers collection here.
And please: no socks with slippers.
Ok, after all of this, are you feeling stumped? Or want someone to give you some feedback besides your mom?
Contact us here or give us a call at our shop. Send us a photo of your outfit and we'll give you some ideas on how to elevate your Kentucky Derby look.