How to Look Dapper AF at this Year's 13 Ugly Men Derby Party
If you do not already know about the charitable organization that goes by the name of 13 Ugly Men, they are a Tampa Bay Area philanthropic group made up of professional gentleman who throw themed party fundraisers. Over the years they have donated over 1 Million dollars to countless local charities. A few of our personal favorites are the Halloween Party, Ugly Christmas Sweater Party and of course, their Kentucky Derby Party.
A proper Kentucky Derby party is an amazing opportunity to dress over the top, drink a few mint juleps and watch some horses race around a circle.
A chance to be a bit eccentric, all day. Bold patterns, bright colors and fun hats are the themes for the day. So let loose a little and have some fun. Here is our definitive guide to dressing dapper AF for this years 13 Ugly Men's Kentucky Derby Party.
A straw hat is perfectly acceptable to wear to a Kentucky Derby Party. They are perfect for the humidity that we always experience in Tampa. Unlike their felt brethren, the fedora, a straw hat will allow your head to breathe. For some reason, wearing these hats in Florida has not really taken off. If you are not used to wearing a hat, challenge yourself and dust off the straw hat for the occasion.
#1 For the sake of all things living. Do not wear this type of Fedora. You look like a jackass. Just don't.
#2 Opt for something with a nice 1 3/4" to 2.5" brim. Preferably flat or with a slight curve upwards 360 degrees around the crown. Goorin Bros & Bailey, amongst others, have very good selections at reasonable prices.
Of course, the timeless and classic boaters hat is always a popular option for a Derby event.
The benefit of living in Florida is the amount of sunshine we get year round. The downside of so much sunshine is, well nothing. It's beautiful here, stop complaining and dress the part, guys.
Naturally, you will need a good pair of shades for an indoor or outdoor event at 13 Ugly Men's party.
Stick with the classics here. Do not go over the top with bright colored lenses. Our wooden wayfarer or wooden clubmasters work perfectly fine. If you do decide to go with a colorful lens, opt for either blue or green for the perfect pop of color.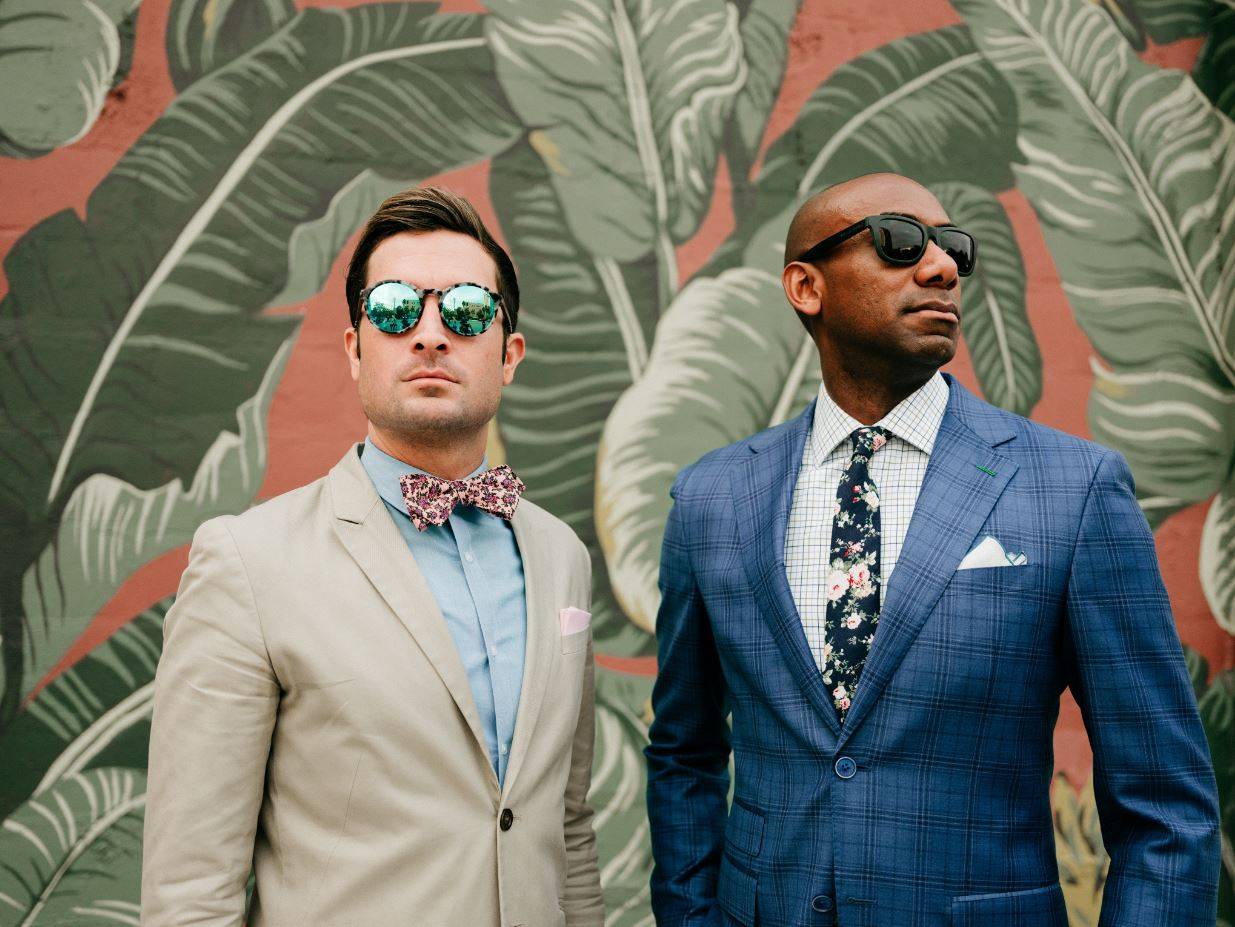 It's the Kentucky Derby, just like the ladies wear something spectacular on their heads, wear something spectacular around your neck.
We would suggest skipping the traditional necktie and opting for something a bit more fun, like a bow tie. If you are going to wear a bow tie, don't you dare wear a clip-on.
You're a big boy. Learn how to tie a bow tie properly. Here's a video tutorial.
If you are feeling extra ballsy, and your event is indoors, consider an ascot to elevate your look. Few can pull off the ascot for a spring event, so try it on at least a few days before to see how it looks and feels.
In any regard, choose something bright and fun. Small print florals are very popular this year and can add a bit of pop to any outfit you choose.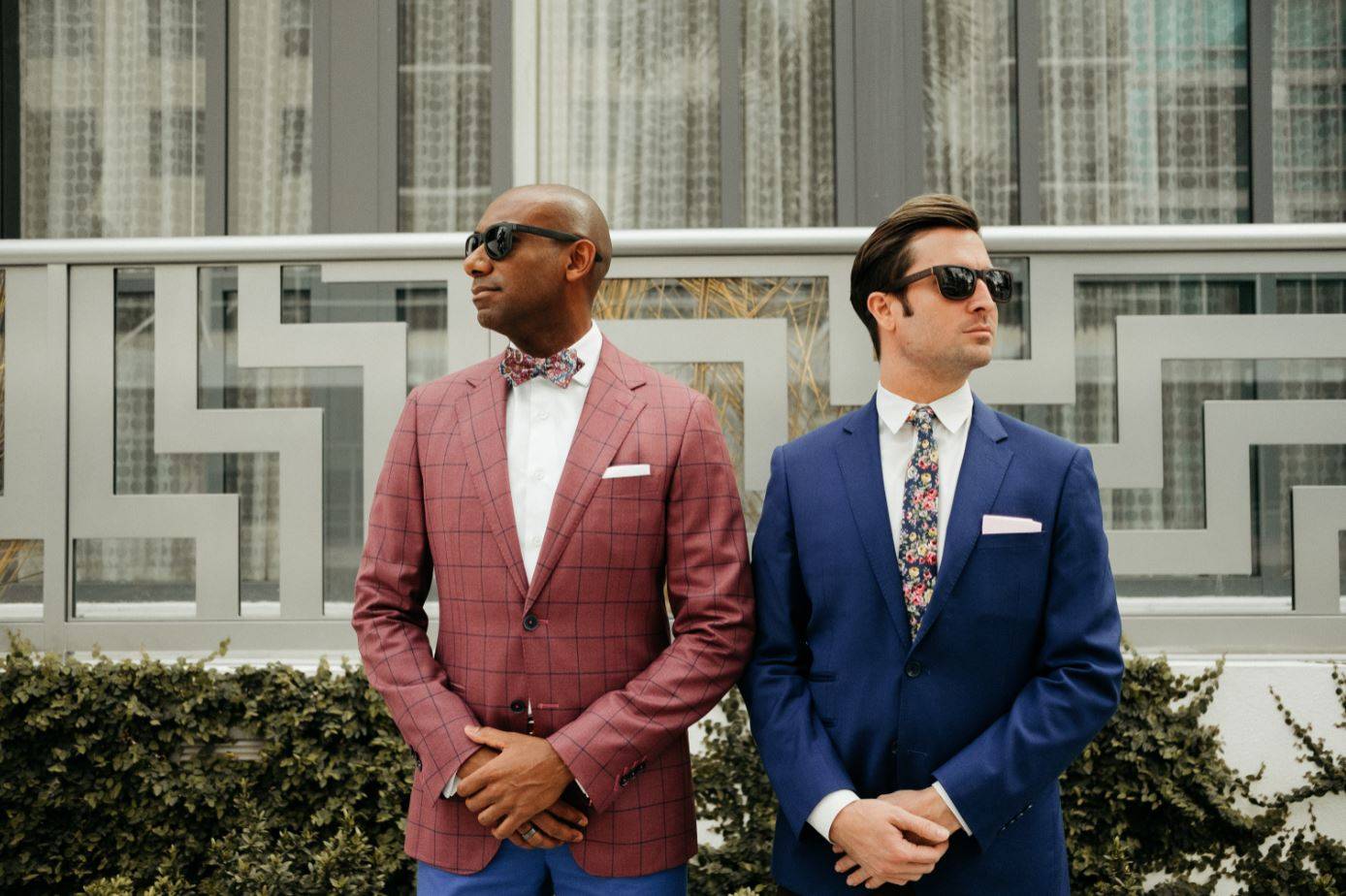 Again, Tampa.
There's heat.
There's humidity.
Wearing a short-sleeved shirt is perfectly acceptable for this event. Your collared shirt should be stiff enough to support a bow tie or necktie. If you opt for a short sleeve shirt, consider at least wearing a proper waistcoat.
Gentleman, please make sure you have your shirt tucked in.
You have many options on prints, but we suggest staying with either a crisp white, light blue, or pink dress shirt. Especially if you are going with a louder bow tie or necktie. Let the accessories speak for themselves. Too many times guys try to peacock their way through Derby parties and end up overthinking the event's classic aesthetic.
If you opt to man through the heat and wear a jacket (which we fully support), you can afford to get a little radical here.
Note: A tip to beat the heat, wear a linen jacket, they are very breathable for humidity and heat.
Second Note: Linen wrinkles very easily. Accept it and forget it. Finding a jacket with a whimsical print, or a bright spring or pastel color is a lot of fun. It's perfect for Tampa but also perfectly acceptable for a Derby party.
If you do opt for an attention-grabbing jacket, keep your shirt neutral.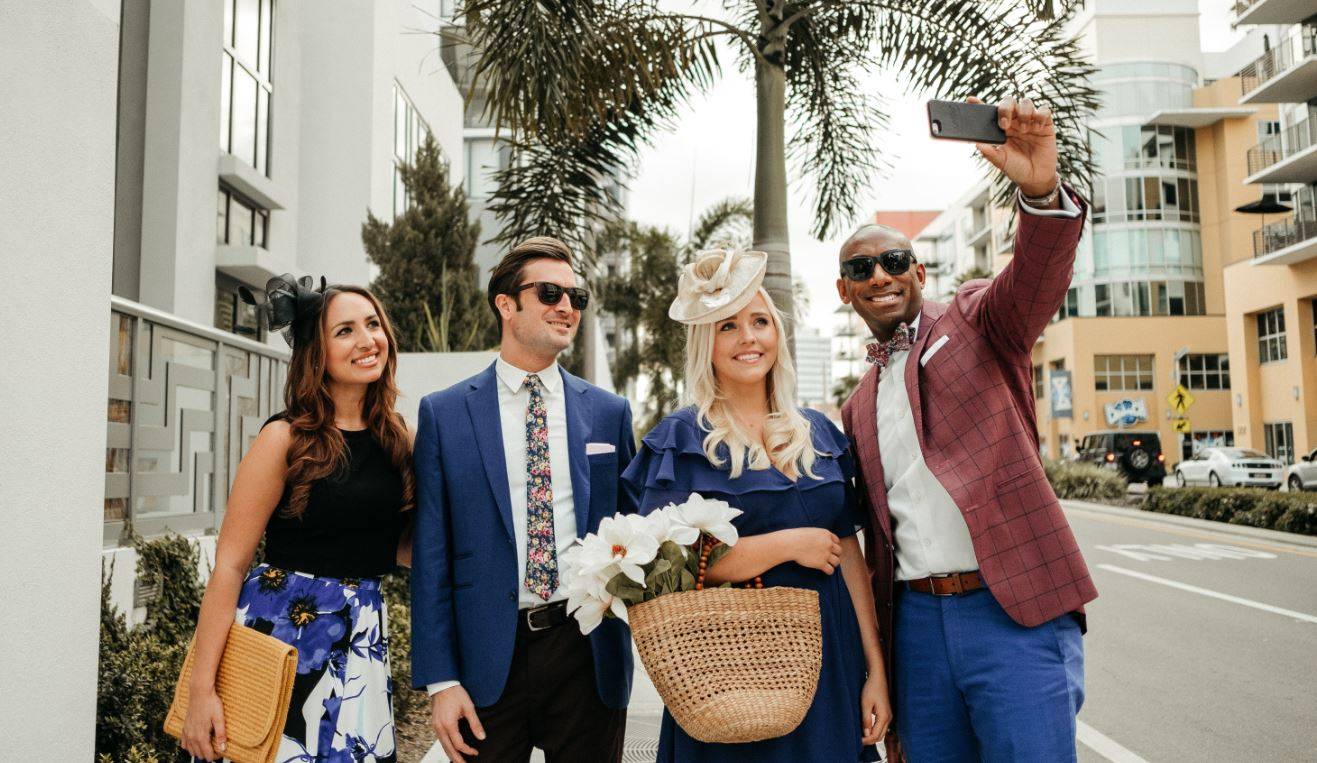 Whether you choose pants or shorts, ensure they are both well tailored. With that said, your shirt, jacket/waistcoat should also be tailored. We know planning isn't your strong suit, but there is nothing worse then seeing a grown man wearing baggy clothing.
White pants/shorts work great here. Perfect for the spring and summer months. If you plan properly you can most likely get away with seersucker or madras prints on either shorts or pants.
But if you do go seersucker, ensure your jacket and shirt are very neutral. Think white shirt, navy jacket.
If you choose to wear shorts and then you decide to wear dress socks, we will personally find you and publicly harass you. If you MUST wear socks, ensure they are no-show socks. With that said, if you wear chinos, wear any socks you damn well please.
Our customizable smoking slippers are a perfect fit for any Tampa-themed Derby party. Whether you choose to wear pants or shorts, they are the combination of comfort and class we like to see at these events.
Note: If you wear pants, ensure you have them hemmed about 1" to 1.5" above your ankle when wearing smoking slippers.
It is of utmost importance that you choose one anchor item and build an outfit around that item.
If you are going to wear loud printed pants, ensure your jacket, shirt and neckwear are rather reasonable.
Popping jacket? Then your pants should be toned down. We typically like to build our outfits around bow ties, allowing our bow tie to shine rather than a jacket or pants. But again this is all personal preference.
Browse through our Kentucky Derby collection here for your own anchor item.
For our Tampa gentlemen, consider the heat, look dapper AF, and enjoy this year's Derby Party with 13 Ugly Men.