How to Wear a Wooden Bow Tie
How to Wear a Wooden Bow Tie & look great doing it.
Some seven years ago, while sitting around my parent's kitchen table, we came up with the idea of the wooden bow tie. We did a little research and found there was already a company making wood bow ties, but those were just flat and mass produced. We knew we could do better. In the beginning, our designs were simple and we really had to do a lot of work to educate people on what exactly you do with these wooden objects. Over the years we have styled thousands of men while providing education on the finer points of wearing an ELLA BING Signature Wooden Bow Tie. Here is what we have learned.
People will stare. Make it worth their while.
Picture it, it's 2013. I'm attending some sort of event while wearing one of our wooden bow ties. It's time for a bathroom break, I enter the men's public restroom and go right for the first open urinal I see. Using my keen peripheral vision. I notice the guy standing to my right staring at me. This is typically not a common sight in a men's restroom. Typically men are straight to business with little to no eye contact. Back to my superior peripheral vision. I notice the guy is still staring. So I slowly turn my head to acknowledge his stares. We make awkward eye contact and the words out of his mouth went as follows. "Bro! Is that Bow Tie made out of wood? Can I touch it?"
The point is, when wearing an ELLA BING Signature Wooden Bow Tie, people are going to stare. People are going to want to walk right up to you and ask you what exactly are you wearing. People will ask to touch it, ask if its real and stare in amazement. When you wear an ELLA BING Signature Wooden Bow Tie, you are wearing a conversation starter, you have a wearable piece of artwork. Ensure you are ready to entertain.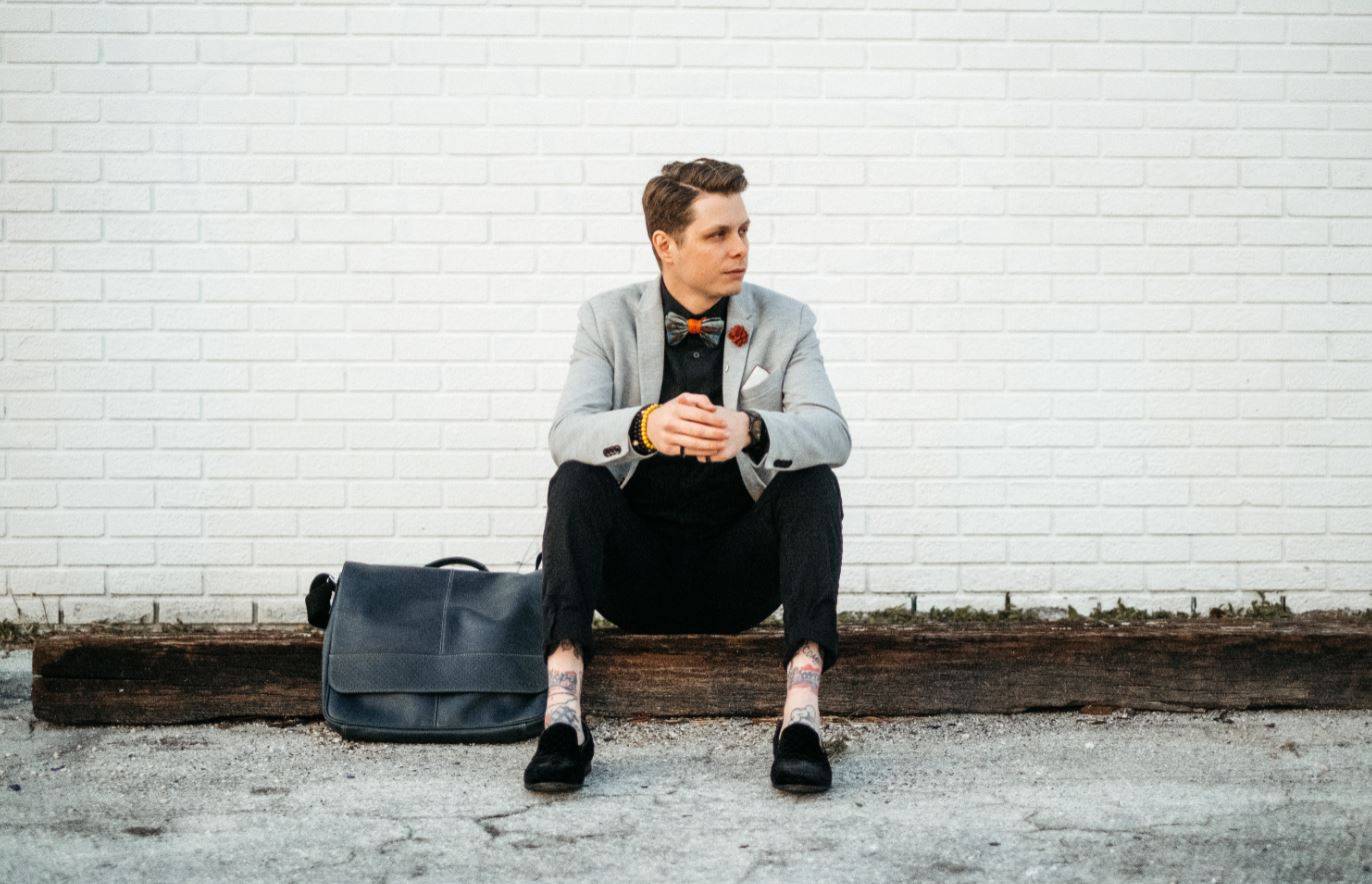 Our wooden bow ties adjust and attach very simply with Velcro. With this said, you will want to ensure whichever dress shirt you choose, ensure it has a nice stiff collar. Truth be told, this is true for any type of neck wear, whether you choose a necktie, a more traditional cloth bow tie, or one of our Signature wood bow ties.
When is a wood bow tie appropriate?
A vast number of our customers, choose to wear our wooden bow ties for special events, fundraisers or galas. They know everyone will be dressed to the nines. And they know our wooden bow ties are the perfect accessory to take their style and look to the next level. Black tie events are extremely popular for wearing our wooden bow ties, specifically one made from pure Black Ebony. On the flip side of the coin. Our wooden bow ties are also perfect to wear a bit more casually. Consider wearing one with a well-tailored pair of chino shorts or pants along with a short sleeve button up. For a relaxed, yet elevated look.
Additional we get a lot of marketing folks, and motivational speakers who use our wooden bow ties as a tool. A tool for branding. To show how in a simple yet effective way you can easily stand out in a crowd and become instantly more memorable.
We do get gentlemen who wear our wood bow ties to work. But that is 100% up to them as they know the culture in their workplace.
Customize your wooden bow tie.
One of the many conveniences we offer our customers is the ability to swap out the knot and neck piece for a different print or type of fabric. I personally select every piece of fabric that is paired with our wooden bow ties, but with that said these selections are simply based on my opinion or mood at the time. If you want another color or another print all you have to do is ask. Additionally, you can send us back your wood bow tie at any time and have the fabric swapped for free. That's right. At any point in you owning an ELLA BING Signature Wooden Bow Tie, we will swap the fabric for you absolutely free. Doing this can give life to a wooden bow tie. While we have it at our shop, we will give it a good buffing and cleaning making it look brand new.
Unlike the flat wood bow ties you see, our wooden bow ties are signature pieces that will grab attention. Each is made by hand and one of one. This means, when you purchase a wood bow tie from ELLA BING, you are the only person with it. You can also laugh at the other guys wearing those flat wood bow ties. In knowing this, we suggest keeping your ancillary accessories to a minimum. The last thing you want to do is peacock too much. Let your custom wood bow tie speak for itself. If you are going to wear a Cloth Pocket Squares, skip the lapel flower and vice versa. This will save you from having too much going on in the general vicinity of your wood bow tie. On that note. Never, should you ever have a matching pocket square. You see so many of these sets for sale on the web with a wood bow tie and a matching pocket square. It's literally one of the worst fashion faux pas you can make. Stay away from doing this at all cost. The perfect alternative is to find a coordinating pocket square, picking up hints of the fabric color.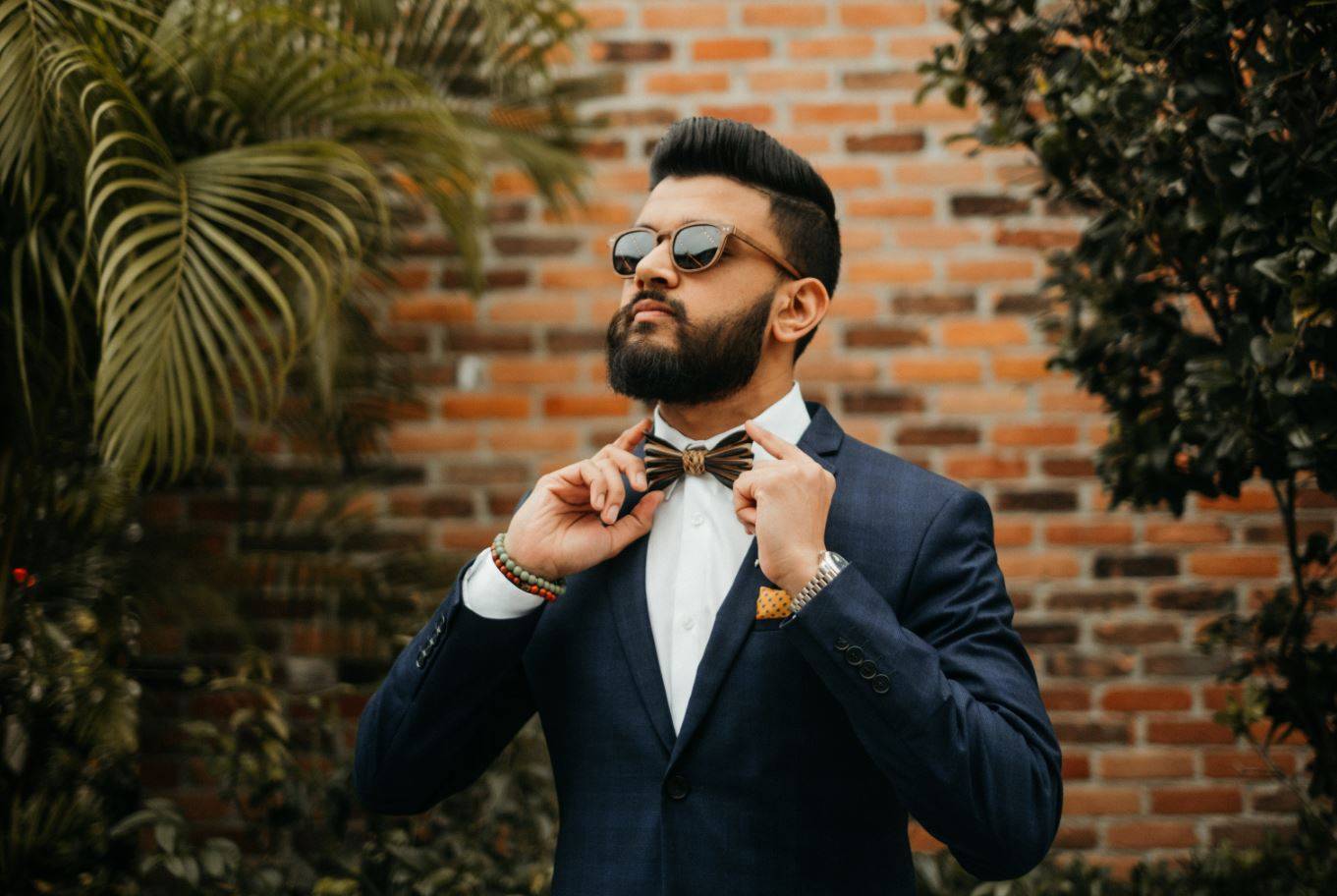 Suspenders are a nice touch.
Cloth Suspenders pair extremely nicely with our wooden bow ties. It's a classic look that never goes out of style. Something about the two paired together so well and give an exquisite look. It is ok to match your knot on your wooden bow tie with the fabric on of your suspenders. Of course, we can customize those for you as well.
An ELLA BING Signature Wooden Bow Tie is the perfect way to add a bit of elegant flair to your outfit. Allowing you to stand out just enough to garner a bit of attention without overtly being obnoxious. A truly classic way to stand out in the crowd.
1 comment